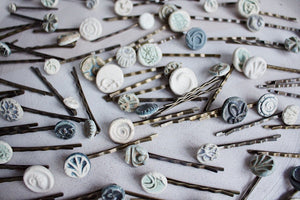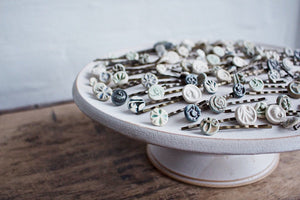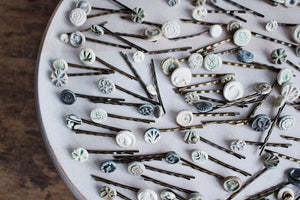 Hair Pin: Collection of 3
I make each one of these intricate, ceramic hair slides by hand using found objects that I've gathered through the years for this very purpose. My collection includes shells from days at the seashore, vintage lace and buttons, several woodblock stamps from the print process, and even a few ancient fossils that my husband and I managed to find on the Jurassic Coast of England. This special stash is what I use to press into soft, stoneware clay to create the bobbie pins.
Each is a little different. This listing is for three hair pins which I'll select for you (artist's choice)! I can't promise certain patterns or colours, but I do guarantee a lovely, and interesting group that are unique and chosen just for you.
The head of each pin is about 1cm (approx 1/4 to 1/2 inch) wide, and the ceramic and metal sections have been securely glued together.
All Illyria Pottery is lead free.
---