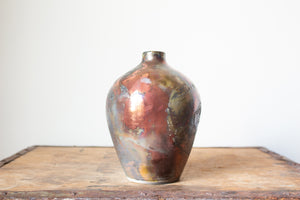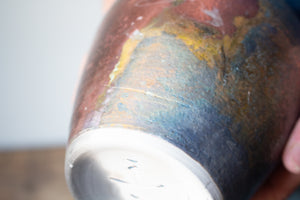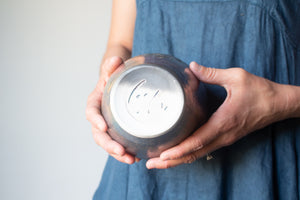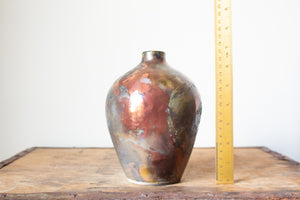 Flawed Raku Vase: Thirty Six
One handmade, raku vase.
This piece is slightly Flawed. There are some hairline cracks on the base and lower side. I Raku is not always watertight anyway (please read below). The piece is still sturdy and beautiful. 
Please view the images of the flaws carefully! Pieces discounted because of a flaw cannot be returned or refunded. They are sold as is! No exchanges. This sale is final.
Raku is an ancient process for finishing ceramics that dates back millennia. After I made this vase on the pottery wheel and bisque fired it, I glazed the surface and placed it in a special outdoor kiln to be heated. Once the pot was glowing hot and the glaze molten, I lifted the lid off the kiln!
The colour of raku pots is highly dependent upon on how quickly they're put into a bin full of combustible material. The hot pots immediately ignite their surroundings. If the pieces are placed in the bin and the lid is put on quickly, the pots will receive less air. This tends to create a reduction atmosphere resulting in reds, pinks, and oranges. If they go in a few seconds slower, receiving more air, the colour range will tend more toward blues, yellows, and greens.
Raku is notable for the amazing variety of colour that it produces. Please note, each side of a raku piece is different. These wonderful variations are intrinsic to this firing method, and no two pieces will ever be exactly alike.
Because of the somewhat crackled nature of the finish, raku pots may not be completely water tight.
Please see image with ruler for general sizing. 
All Illyria Pottery is lead free.
---