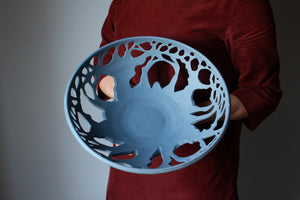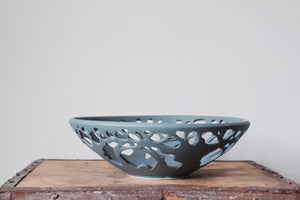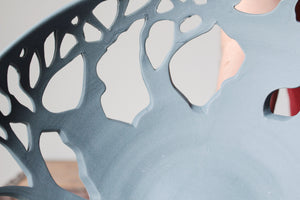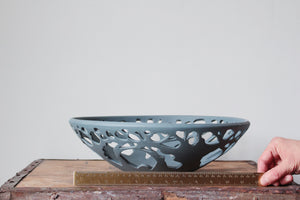 Tree Bowls
Slightly Flawed Tree Bowl in Blue Matte
Bring nature indoors.

Each 'Tree Bowl' begins as a wheel-thrown form. I then sketch a unique tree silhouette on the outside and carve away the negative space around the branches and trunks.
Please view the images of the flaws carefully! Pieces discounted because of a flaw cannot be returned or refunded. They are sold as is! No exchanges. This sale is final. 

There is one, almost unnoticeable hairline crack in the base of this piece. I actually didn't see it at first. On closer inspection, it is visible from the inside and outside, but only just. Because the lip is strong, this very minimal crack does not render the piece much (if any) less sturdy (since tree bowls are relatively delicate anyway). Handle with care, as you would any carved, ceramic piece, and this bowl should last for generations. 
Perfect as a standalone centrepiece. You can also put a candle inside (amazing shadow play with shapes projected on your table and walls).
Please see image with ruler for sizing.
---