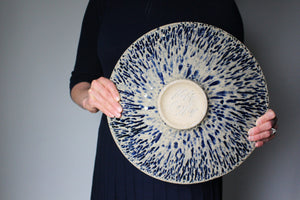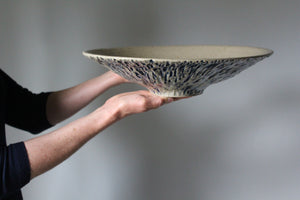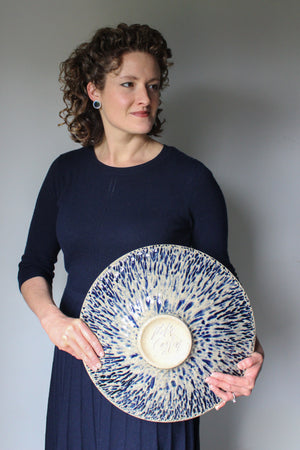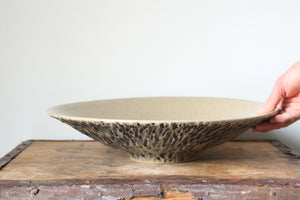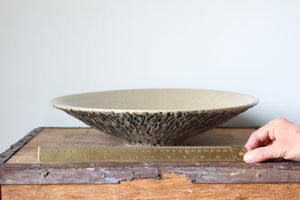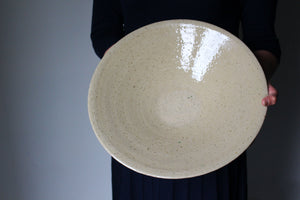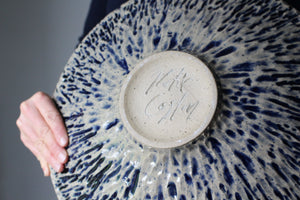 Sale
Extra Large Textured Serving Bowl: Slightly Flawed
Please read full description!
A beautifully carved, wheel-thrown, serving bowl in a cream/white finish with rich touches of cobalt on the outside. 
Once partway hardened, deep grooves were cut into the exterior of the bowl for a delicious textured look.
This piece has a small, hairline crack in the base. The flaw is very faintly visible from the inside (I didn't see it at all at first), and it is still watertight. Despite the flaw, this piece is strong, useful, and lovely. 
Please view the image of the flaw carefully. Pieces discounted because of a flaw cannot be returned or refunded. They are sold as is! No exchanges. This sale is final.
Please see image with ruler for sizing.
This piece is food safe and is perfect for serving hot or cold food. We recommend hand washing as the safest option. All Illyria Pottery is lead free. 
---